Special Fall Demo Deals
Gently demonstrated by our professional team
Bowers & Wilkins 702 Signature Tower Speakers
• Stunning Datuk Gloss Finish, Demo
The B&W 702 Signature tower speaker features optimized crossovers, three Aerofoil Profile bass drivers, a Continuum cone midrange and a Carbon Dome tweeter housed in a Solid Body Tweeter-on-Top enclosure.
Standout Features Include:
• Optimized tweeter housing
Milled from a solid block of aluminum, the Solid Body Tweeter housing design creates an acoustically optimized housing that is exceptionally inert and resistant to resonances.
• Sharper detail
Carbon Dome tweeters are purpose-built for the 700 Series and deliver pinpoint imaging accuracy and detailed insight into your music.
• Truly amazing sound
Voices and instruments are delivered with purity and precision, thanks to the smooth, accurate Continuum™ cone midrange driver.
Totem Sky Bookshelf/Monitor Speakers
• Satin White Finish, Demo
* We ended up with two demo pairs which is the only reason we're selling this other pair.
The SKY is made with unique borosilicate dampening that controls energy release yet keeps the cabinet musically alive. A specially designed 5-inch driver, long throw characteristics, 3-inch voice coil unit with 500W peak transient capacity delivers a fantastic musical response. The Totem SKY was truly created for an age where value is put on a pure and honest musical rendition. Whether on a table top, in a book-shelf or on a dedicated stand, the Sky is optimized to work beautifully close to rear wall boundaries.
Standout Features Include:
• Compact and aesthetic design
• Full mono-shell, hand-assembled chassis
• Lock mitered cabinet joints
• Exclusive, hard-wired crossover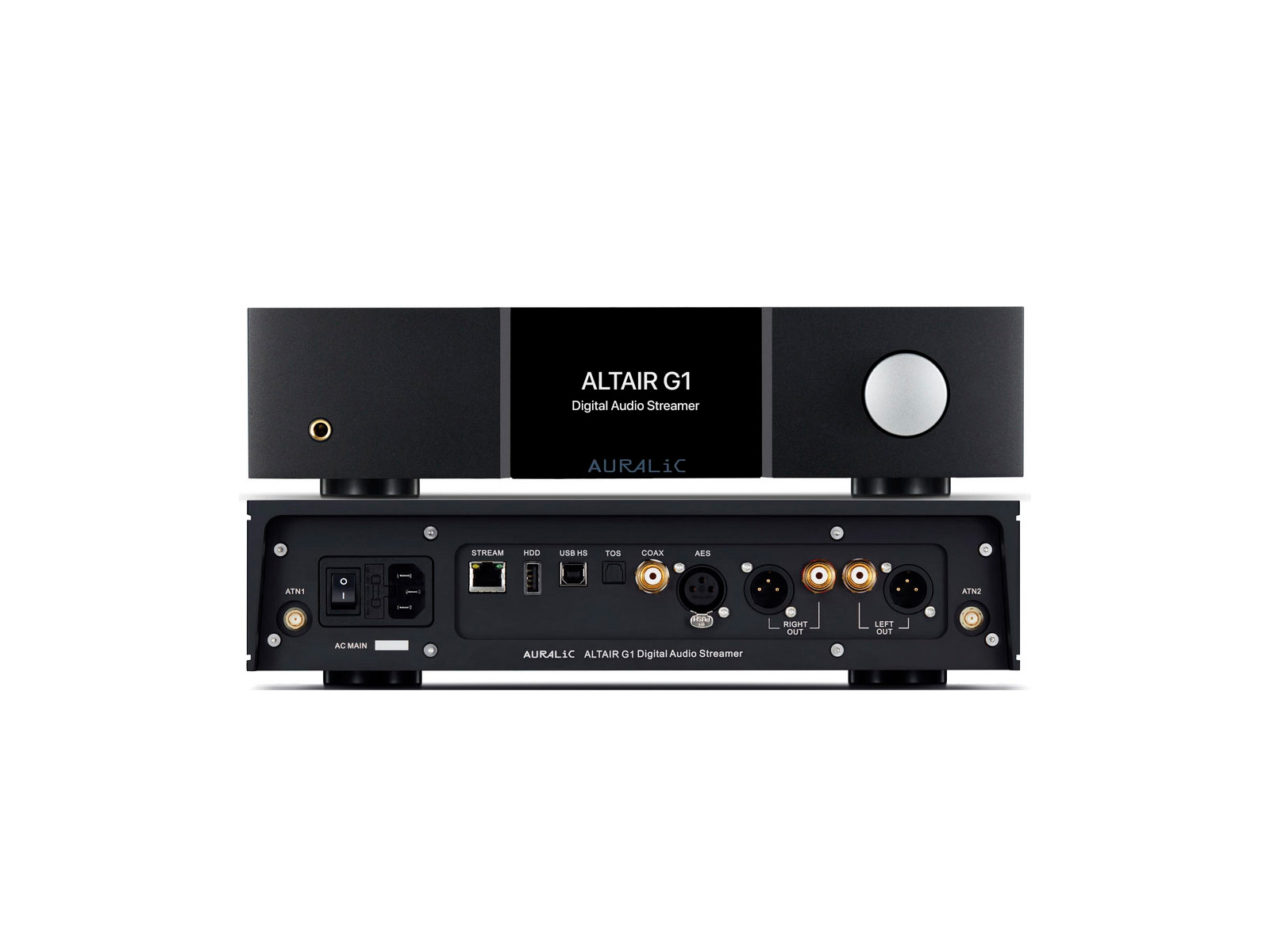 AURALiC ALTAIR G1 Digital Preamp / Streamer/ DAC
• Wireless Network Streamer / Digital Audio Converter
• Black Finish, Demo
"Auralic has tweaked the specification for this latest iteration and… the result is a product that offers pretty much everything you need and little that you don't. The result has to be seen as one of the best, if not the best streaming front ends you can buy for under £2,000." -Hi-Fi Choice
Standout Features Include:
• 4-Inch high-resolution true-color front-panel display
• Network streaming capability up to DSD512 and 32 bit/384 kHz PCM
• Bluetooth streaming
• AES, coaxial, optical, and high-speed USB digital inputs
• Volume control feature for digital preamplifier functionality
• Balanced XLR analog audio outputs
Bluesound NODE 2i
• Wireless Multi-Room Hi-Res Music Streamer
• Black Finish, Demo
The NODE 2i player brings the BluOS™ operating system to your existing stereo system, allowing you to tap into a totally new world of digital music discovery.
Online streaming services, internet radio and even your own digital music library which is imprisoned on a computer, smartphone or external drive (even a USB key) — the playback choices become infinite.
Standout Features Include:
• Connect to any existing stereo amplifier, AV receiver, or powered audio system.
• Featuring digital and analog input/output options, headphone stereo mini jack, and subwoofer out.
• Simple setup directly inside the user-friendly BluOS Controller app.
• AirPlay 2 lets you play music or podcasts from wireless stereo components throughout your house — all in sync.
Furutech GTX-D (R) NCF Audiophile Duplex AC Receptacle
• Brand New, Only Four Remaining, $255 List, $199 Sale
Nano Crystal Formula (NCF) – Nano Crystalline, Ceramic and Carbon Powder
Incorporated into select Furutech products, Nano Crystal² Formula — NCF is comprised of a special crystalline material that has two "active" properties.
First, it generates negative ions that eliminate static and secondly, it converts thermal energy into far-infrared.
Furutech then combines this remarkable crystalline material with nano-sized ceramic particles and carbon powder for their additional "Piezo Effect" damping properties.
The resulting Nano Crystal² Formula is the ultimate electrical and mechanical damping material – only found in Furutech products!