Special Fall Demo Deals
Gently demonstrated by our professional team
Rogue Audio Sphinx v3 Interated Amplifier
• Wireless Network Streamer / Digital Audio Converter
• Black Finish, Demo
Dynamic, transparent, and profoundly musical, the Rogue Sphinx v3 sets a new standard in affordable integrated amplifiers. Utilizing sophisticated circuitry borrowed from our most advanced designs, the Sphinx is able to outperform separates costing far more than this single box design.
And with 100 watts of hybrid power, this integrated is capable of realistic volume levels that will rival the clarity and presence of the original performance.
Standout Features Include:
• 100 WPC/8 ohms
• Pure tube mu-follower preamplifier
• Damping factor > 1000
• Discrete MOSFET based headphone amplifier
• 44/60dB MM/MC user adjustable phono section
• Matched 12AU7 preamplifier tubes
• 4 inputs (phono, line 1,2,3)
• Alps custom volume potentiometer
Bowers & Wilkins 683 S2 Floorstanding Speakers
• Black Finish, Pre-Owned
The 683 S2 features a Decoupled Double Dome tweeter – technology evolved from Bowers & Wilkins CM10 speaker. The double dome design uses an extremely thin aluminum dome for lightness, surrounded by a thicker aluminium ring for rigidity. The result is a far more precise treble performance.
And while the tweeter looks like its part of the main speaker, it's physically separated in its own gel-filled cavity, so performance isn't hit by unwanted resonances or vibrations, for a more natural, spacious sound.
Standout Features Include:
• Decoupled Double Dome aluminum tweeter with Nautilus™ tube loading
• Kevlar® brand fibre cone FST™ midrange driver
• Dual-layer aluminum cone bass driver
• 1x 1 in aluminium dome high-frequency
• 1x 6 in woven Kevlar® cone FST™ midrange
• 2x 6.5 in aluminium cone bass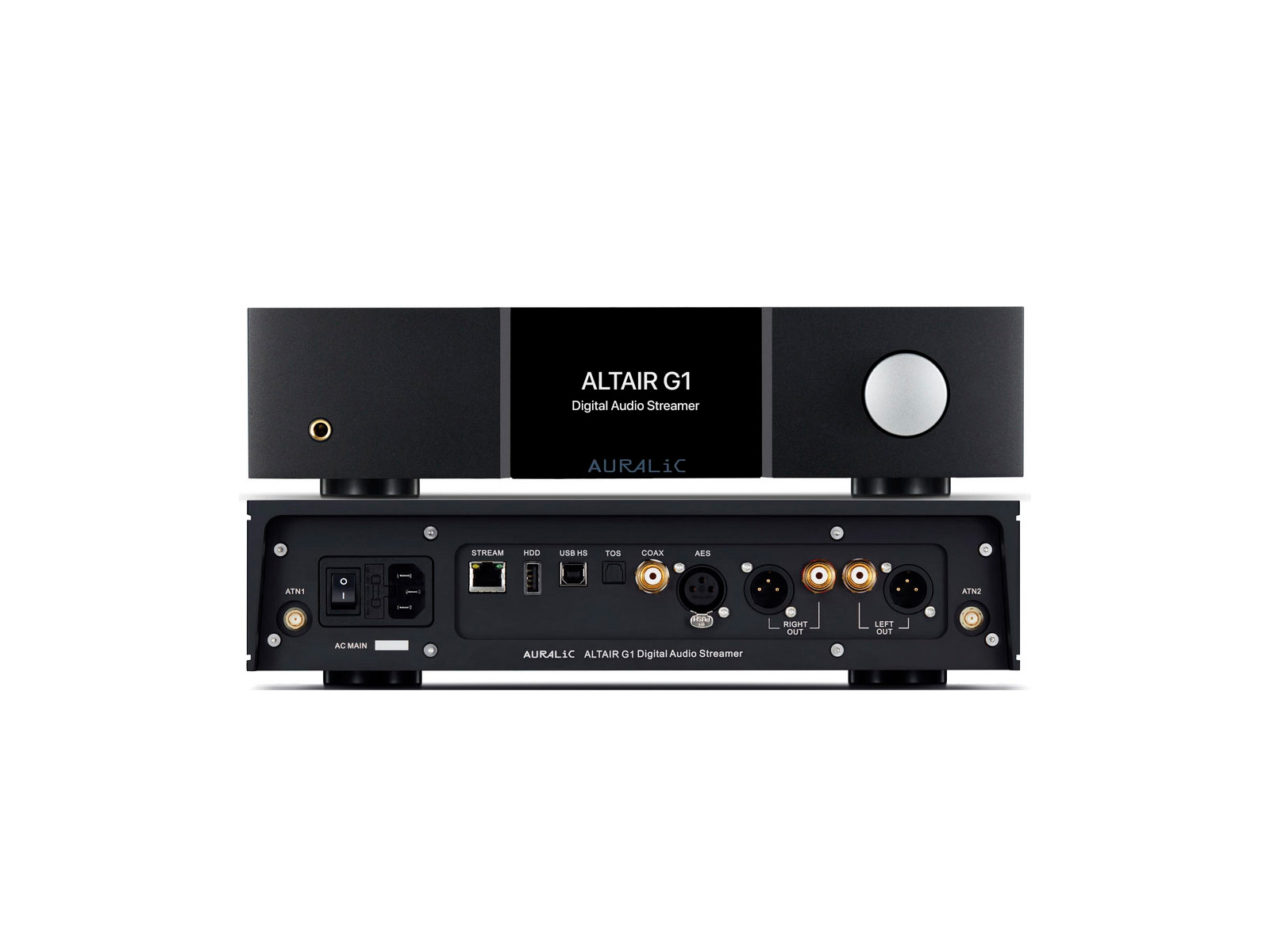 AURALiC ALTAIR G1 Digital Preamp / Streamer/ DAC
• Wireless Network Streamer / Digital Audio Converter
• Black Finish, Demo
"Auralic has tweaked the specification for this latest iteration and… the result is a product that offers pretty much everything you need and little that you don't. The result has to be seen as one of the best, if not the best streaming front ends you can buy for under £2,000." -Hi-Fi Choice
Standout Features Include:
• 4-Inch high-resolution true-color front-panel display
• Network streaming capability up to DSD512 and 32 bit/384 kHz PCM
• Bluetooth streaming
• AES, coaxial, optical, and high-speed USB digital inputs
• Volume control feature for digital preamplifier functionality
• Balanced XLR analog audio outputs
Furutech GTX-D (R) NCF Audiophile Duplex AC Receptacle
• Brand New, Only Four Remaining, $255 List, $199 Sale
Nano Crystal Formula (NCF) – Nano Crystalline, Ceramic and Carbon Powder
Incorporated into select Furutech products, Nano Crystal² Formula — NCF is comprised of a special crystalline material that has two "active" properties.
First, it generates negative ions that eliminate static and secondly, it converts thermal energy into far-infrared.
Furutech then combines this remarkable crystalline material with nano-sized ceramic particles and carbon powder for their additional "Piezo Effect" damping properties.
The resulting Nano Crystal² Formula is the ultimate electrical and mechanical damping material – only found in Furutech products!