Special Spring Demo Deals
Gently demonstrated by our professional team
Rockport Technologies Atria II Speakers
• Audi Glacier White Finish, Showroom Demo
Rockport Technologies is proud to announce the Atria II as the successor to our acclaimed Atria. While maintaining the elegant form of its predecessor, the Atria II establishes an entirely new level of musical realism.
Capitalizing on the benefits of our new waveguide mounted beryllium tweeter, we have completely redesigned the crossover in the Atria II to create a fundamentally transformed loudspeaker. The Atria II also uses our latest generation of custom, carbon fiber sandwich composite cone drivers designed and developed from the ground up by Rockport Technologies.
Both the bass driver and midrange driver utilize a revolutionary new carbon fiber fabric in their cone construction that further increases the stiffness/weight ratio of the cones, ensuring pure pistonic behavior throughout their entire operating range. The midrange and bass drivers also feature newly designed cone profiles as well as state of the art, ultra-linear, high-power motor systems. The result is vanishingly low distortion, incomparable resolution, and enormous dynamic range.
Bryston B135 Cubed Integrated Amplifier
• Black Finish, Showroom Demo
Bryston proves that integrated amplifiers give no ground to their separate counterparts.
The B135 is literally constructed of the BP-17 preamplifier and 2.5B Cubed amplifier into a single chassis offering the best of both products without occupying extra space and costly interconnects.
For those who wish to save money and space yet refuse to yield sound quality, the B135 Cubed Integrated Amplifier is a top choice.
Standout Features Include:
• True dual-mono amplifier section produces 135 watts per channel into 8 ohms, 180 watts per channel into 4 ohms.
• Fully convection cooled means no noisy fans
• Connect up to 6 analog sources (or 7 with tape-loop input)
• User configurable home theatre bypass input
• Legendary Bryston 20 Year Warranty
• DC Trigger and 2-way RS232 for automation systems
Totem Acoustic SKYLIGHT Bookshelf Monitors
• Satin White Finish, Showroom Demo
The SKYLIGHT brings a new high-performance standard to affordable bookshelf monitors. If one seeks ease of placement, total and immersive mood projection, while maintaining huge musical dimensionality and extension, the SKYLIGHT establishes itself as a worthy ally.
With dynamic potential that exceeds many small floorstanding speakers, it excels in today's multi- purpose environments. Whether on a tabletop, bookshelf, lowboy or a variety of stands or platforms, it will engulf you in an immersive and spectacular acoustical envelope.
General Specifications:
• Dimensions: 6.31" x 11.87" x 9.5" (W x H x D)
• Impedance: 8 ohms
• Frequency Response: 51Hz – 26,000Hz ± 3 dB
• Sensitivity: 88 dB
• Recommended Power: 20 to 100 W
AURALiC G1 Wireless Network Streamer & DAC
• Black Finish, Showroom Demo
A Complete Digital Source
We designed the ALTAIR G1 to provide a comprehensive solution for the discerning music enthusiast. As a DAC, preamplifier, server, wireless streamer, and storage device, the ALTAIR G1 delivers high performance in a wide variety of system configurations. Digital COAX, TOSLINK and AES/EBU inputs, plus single-ended RCA and balanced XLR outputs allow multiple connections to the unit. Also included is a front panel stereo headphone output should a dedicated high-powered headphone amplifier be required.
Designed for ease of use, crystal-clear sound and a highly flexible system configuration, ALTAIR G1 brings high-performance, cutting-edge technology, and incredible value to any high-fidelity music system.
Standout Features Include:
• Supports sample rates up to 32-bit/384kHz PCM and DSD512
• Wired and wireless networking
• Digital inputs: 1x USB-B port; 1x coaxial; 1x optical; 1x AES
• Tidal, Qobuz, Spotify, Internet Radio, AirPlay, Roon Compatible, more
Bowers & Wilkins Formation Audio
• Showroom Demo
Formation Audio
Bring your existing system right up to date with Formation Audio wireless audio streamer.
Access 24-bit/96kHz hi-res audio on your hi-fi, include it in a multi-room set-up, even stream analog sources like turntables to Formation wireless speakers.
Standout Features Include:
• Apple® AirPlay 2® technology
• Spotify® Connect
• Roon Ready
• Bluetooth In
• High performance analogue-to-digital converter (ADC)
• High performance digital-to-analogue converter (DAC)
Bel Canto e.One Stream Network Bridge
• Black Faceplate, Showroom Demo
Stream Network Bridge
The e.One Stream is a powerful interface between network and your audio system, delivering pristine digital content to your DAC or Analog with fully rendered MQA to your preamplifier or directly to your amplifier.
The compact Stream gives you the option to access the immense musical diversity of TIDAL, Qobuz, Vtuner and your personal NAS library managing content and volume with your iOS device.
Standout Features Include:
• Resolution up to 24/192
• Roon End Point
• Bel Canto SEEK iOS app
• SEEK Volume Control
• Ultra-low Phase noise master clocks
• USB-A slot for music store on a hard drive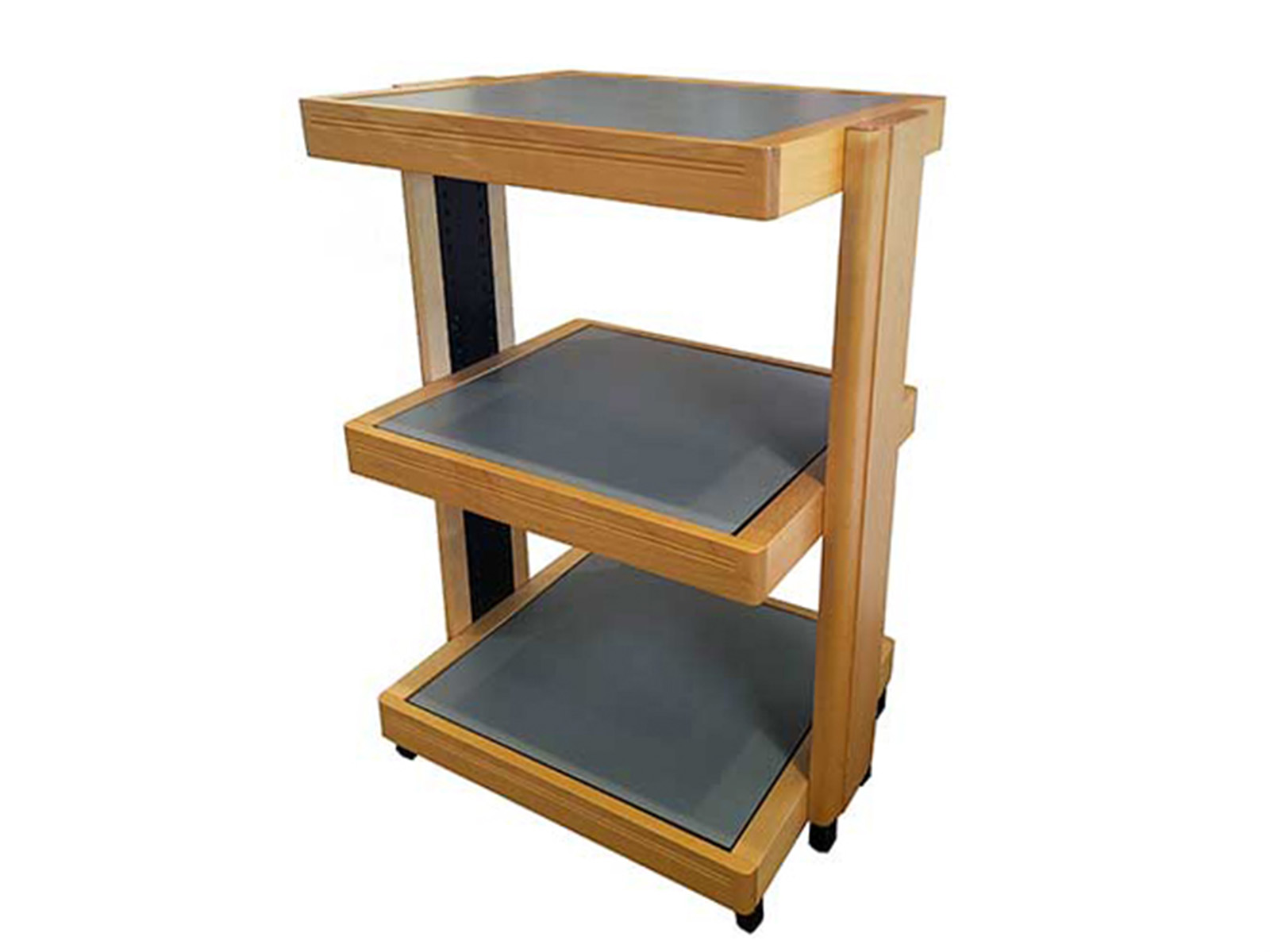 Harmonic Resolution Systems (HRS) High Performance RXR Audio Stands
• Maple Finish, Two Available, Showroom Demo
• Both are 3-Shelf Versions, 19″ x 21″ in Size, Featuring R Shelving
For the past two decades, Harmonic Resolution Systems (HRS) has worked tirelessly to develop a high-performance product line that offers flexible, modular, and cost-effective solutions to obtain the true performing arts magic these exceptional systems can achieve.
While developing a "one size fits all" solution may have been more convenient for us and our dealer network, HRS let the engineering principles and our extensive listening test protocol guide us to the ideal solution for each component type and system location to achieve the best result.
Harmonic Resolution Systems is comprised of a team of skilled engineers, dedicated craftsmen, and product support specialists with hundreds of years of experience in design, development, production, sales, and distribution of noise-reduction components and systems that brings the magic of your favorite music and movies to life in your home. These skills are utilized with passion at HRS to create products with exceptional performance and of the highest quality.