Stereo Exchange is excited to introduce Rogers High Fidelity newest performer, the PA-1A Phono Preamplifier. Analog performance to ultimate perfection has always been the standard at Rogers High Fidelity and the new PA-1A preamplifier follows this heritage in every detail.
This phono preamplifier is currently on demo at Stereo Exchange with stock available as early as 2 weeks from today. The PA-1A Phono Preamplifier will retail at $7000.
ONLY AVAILABLE AT STEREO EXCHANGE IN NEW YORK CITY!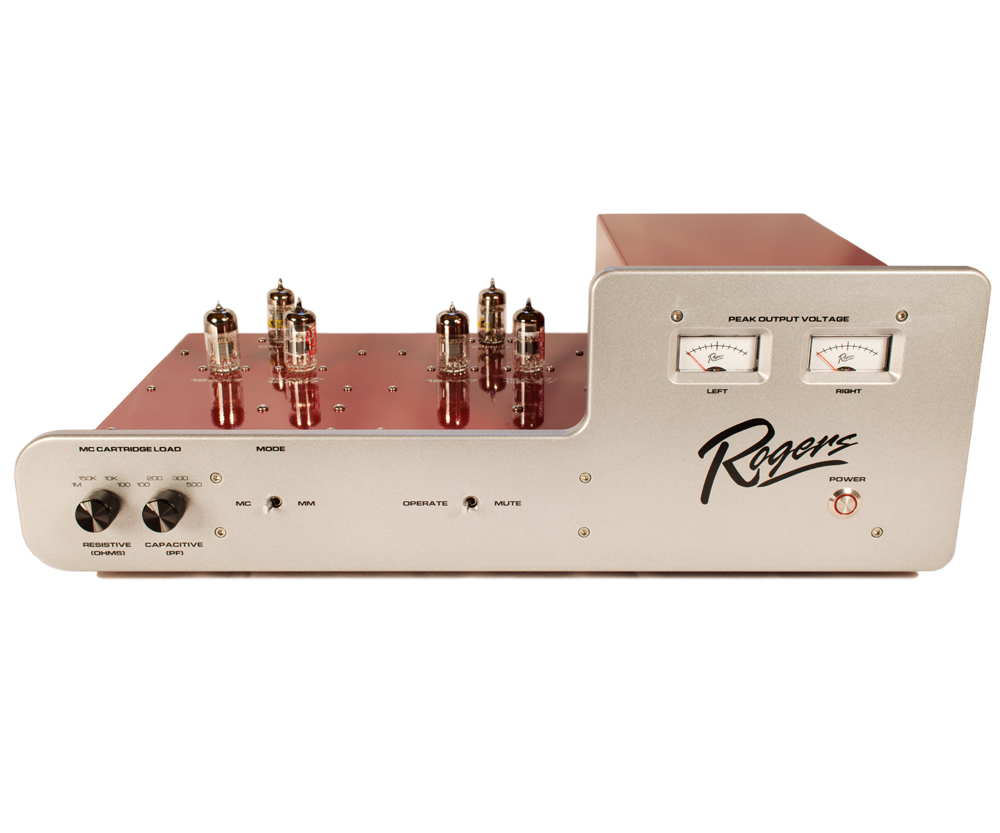 "The best sound I have ever heard of phono reproduction in my life's work"
—President & Chief Designer of Unnamed, Legendary Turntable Manufacturer
You have not heard your record collection until you have heard it being played through the Rogers High Fidelity PA-1A Phono Preamplifier. It's dual-mono, Class-A, all-tube design has an industry leading signal-to-noise ratio and represents an all out assault on the state-of-the-art. Unless you are listening to your vinyl collection through our high performance, vacuum-tube preamp, you are missing out on half of the tonal qualities that you love about analog reproduction.
Features:
-Selectable inputs for either moving magnet or moving coil cartridge designs

-Front panel controls allow the user to set resistive and capacitive loading to match our custom transformer input

-Illuminated front panel voltage meters allow for quick diagnosis and resolution of cartridge imbalances

-Innovative soft-start and auto-bias circuitry ensuring long tube life

-Mute switch on front panel allows for easy tone arm adjustments without the need of reducing your amplifier volume or putting your system in stand-by.
Specifications:
-Frequency Response: +/- 0.1 dB deviation from the RIAA curve, 10 Hz to 20 kHz

-Gain: 50 dB- 65 dB selectable thru input tube selection,both 12AU7 and 12AX7 supplied

-Input Impedance: Moving Magnet- 47 K ohm, Moving Coil-transformer input with front panel selectable cartridge loading. 100 ohm – 1 Meg ohm, 100 pF- 500 pF

-Input Jacks- unbalanced RCA

-Output Impedance: 1 K ohm- 1 Meg ohm

-Output Jacks- unbalanced RCA

-Noise Floor: 0.1 microvolt, input referenced, A-weightedand un-shorted

-Signal to Noise Ratio: 95 dB at 20 mV input

-Channel Isolation: 75 dB minimum

-Tube Compliment: 2- 12AU7 or 12AX7(user selectable,both supplied), 2- 12AX7, 2-6GH8

-Front Panel Controls: MC cartridge loading, MM or MC mode select, Mute switch
All Roger's High Fidelity products come with a Limited Transferrable Lifetime Warranty.